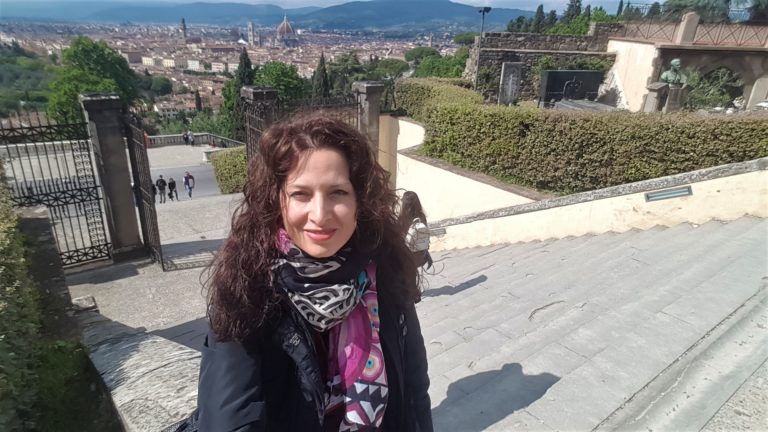 Ciao! My name is Elisa Pasqualetti and I'm an official licensed tour guide of Florence and its surronding areas.
A deep love for this city has led me in an almost natural way to study it, to know it better and love it more … if it were possible!
I still remember when, at the age of about 8, I visited Florence for the first time with eyes full of wonder!
It was love at first sight. A visit that has conditioned my destiny ever since I started living here 15 years ago.
The love for the Tuscan countryside, the rolling hills, the vineyards and the olive groves between which I was born is unchanged in my heart.
now I imagine Lorenzo the Magnificient hunting in the woods near my birthplace. I seem to see Leonardo da Vinci's unfortunate collaborator "flying", down from the Fiesole hills, onto the experimental flying machine designed by the genius.
In the city I imagine Dante walking thoughtfully through the alleys and Michelangelo, sitting in front of the Cathedral, admiring the Door of Paradise casted by Ghiberti.
But Florence is not only about art and history but there are also many cultural and gastronomic traditions to be discovered … and savored! All the better if accompanied by a nice glass of Chianti, or served fresh as an ice cream cup.
I offer for families tailor-made tours because as a mother I understand that during a guided tour it is important to find the right formula that meets the needs of young and old.
For this reason. I plan, whenever possible, games for the little ones without compromising the visit, the explanations and the contents for the older partecipants.
So whether you are a couple, a family or a group of friends, I wait for you to go Strolling with Ely and help you fall in love with my city.